Elevate Black Voices • Sustain awareness of racial injustice
Welcome to our Silent Witness Against Racial Injustice page.
On June 19, 2020, members of Falls Church Presbyterian, The Falls Church (Episcopal), and Columbia Baptist, along with neighbors and friends, joined together in silent witness to commemorate Juneteenth and demonstrate against racial injustice. The witness did not end on that day. We continue to gather every other week along Broad Street in Falls Church to sustain awareness of racial injustice toward Black lives and all People of Color. 
Please join us.
We gather for a Silent Witness Against Racial Injustice every other Saturday from noon to 1:00 p.m.
Bring your sign  | Wear a mask  |  Stand 6-10 feet apart from each other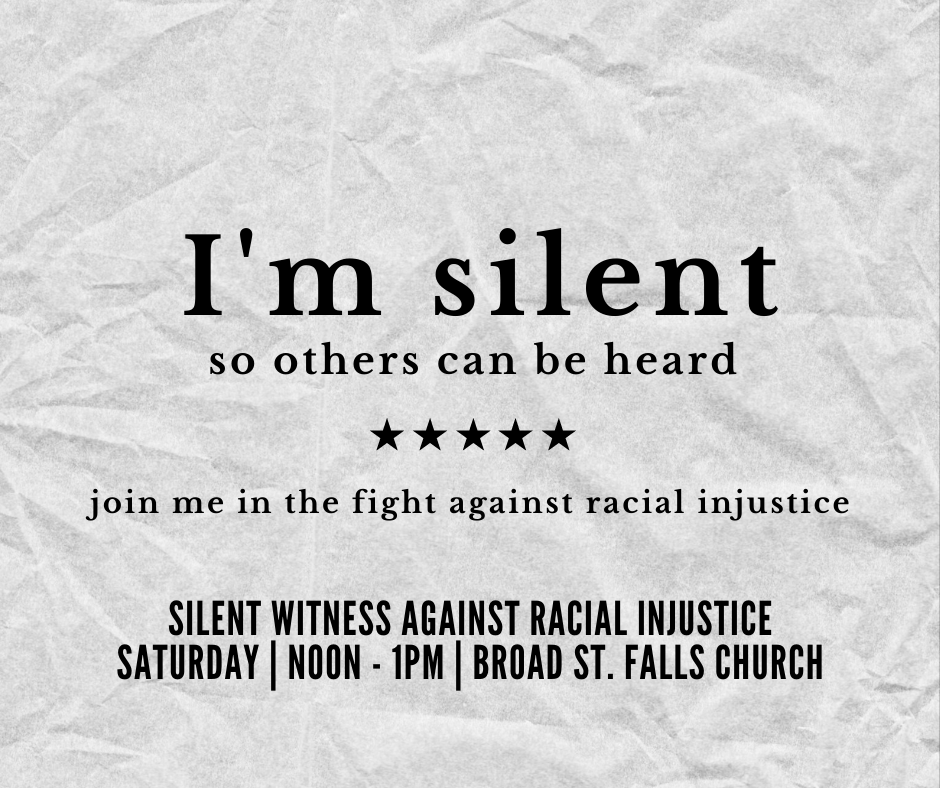 Next Silent Witness Event:
April 24th Silent Witness
Please join the Falls Church faith community in a Silent Witness Against Racial Injustice on April 24th from noon  to 1:00 p.m. along Broad Street. 
We remember the names of those killed by police violence in  2021: Daunte Wright, Dominique Williams, James Lionel Johnson, Fantahun Girma Woldesenbet, Jose Arenas, Natzeryt Viertel, Noah Green, Jeffrey Ely, Anthony Alvarez, Adam Toledo, Donovon W. Lynch, Eric Leach, Tony Smith Jr., Joshua James Gloria, Leonard Popa, Tyrell Wilson, Dwight Brown, Dino Raul Morales, Ryan Shirey, Juan Carter Hernandez, Jordan Walton, Anthony Steven Loia, Christopher Hagans, Andrew Hogan, Josue Drumond-Cruz, Jenoah Donald, Randy Miller, Kevin Levira Desir, Felix Santos, David Lee Tovar Jr., Christopher Austin Dockery, Christopher Anderson, Zonterius Johnson, Reginald Johnson, Patrick Warren Sr., Jason Nightengale, and Robert Howard
We remember their names.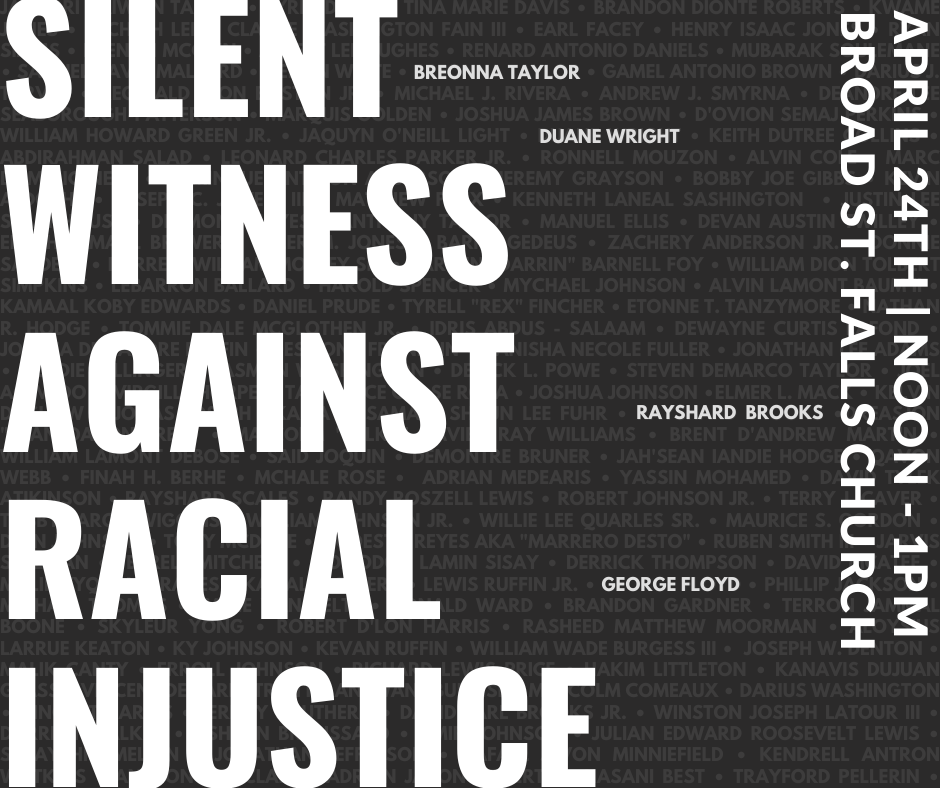 Looking for ways to financially support the fight against racism?
Here are some suggestions from our Justice Ministry Team
Frequently Asked Questions
What is a "Silent Witness?"
Is it a protest?
A Silent Witness is an opportunity for the faith community to come together, show solidarity on an issue, and amplify the voices of the marginalized. In essence it is a protest, but it is also a way to leverage our faith community, while focusing on others in need.
What is the Silent Witness Against Racial Injustice all about?
Falls Church Presbyterian Church started the Silent Witness Against Racial Injustice to call attention to the seemingly endless number of police shootings of Black Americans.  We wanted to stand in solidarity with our Black brothers and sisters, to amplify their voices in protest against this violence, and to sustain awareness in the Falls Church community of these issues. We also wanted these Silent Witness events to be ecumenical, which is why we continue to invite the faith community along Broad Street (Route 7) to join us in silent witness.
How often do these Silent Witness events happen?
We schedule these Silent Witness events every 14 days, rain or shine, from noon to 1:00 pm on Saturdays.  This gives us time to prepare our social media advertising on the key focus area for the next event.

What kinds of focus areas are you highlighting?
The Silent Witness events focus around issues of racial injustice, but also around significant events in the Black community. We began by commemorating Juneteenth 2020, and have since remembered the lives of the Honorable John Lewis and Rev. C.T. Vivian, and stood in silence against the disenfranchisement of Black voters, inequities in education, and unjust prison reform. We're always looking for new themes and take inspiration from NAACP Fairfax, Black Lives Matter DC, and events across the nation.
But what if I don't have a sign?
It's OK, we've got extra signs for folks.  We're just happy to have you join us!
We prefer that you stand on either side of Broad Street in Falls Church on the sidewalk.  We would prefer to extend our line toward Washington Street to maximize our visibility to passing traffic. 
How are you ensuring people's safety during the pandemic?​
We've asked people to wear masks and maintain a physical distance of six to ten feet. We also have "event captains"—look for their fluorescent vests—to keep an eye on everyone's compliance with current Covid-19 guidelines. 
How do people react to your events?
Most people honk in support as they drive by, though there is the occasional negative reaction. 
I still have questions. Who should I talk to?
If you're coming to a Silent Witness event look for someone in a fluorescent vest. If you'd like more information contact our Justice Ministry Leaders.
Check out this quick recap from our Juneteenth Silent Witness.
Ready to get involved? Join us at our next Silent Witness.
There are many ways to get involved in the life and ministry here at Falls Church Presbyterian. Whether you are looking to join a ministry team, serve others through our Welcome Table ministry, sing in the choir or simply find a community to call home, we welcome you and hope that you will find grace, wholeness, and renewal here.